How Do I Create A Web Server Within The Kamatera Free Trial?
1.After registering, access Console.kamatera.com.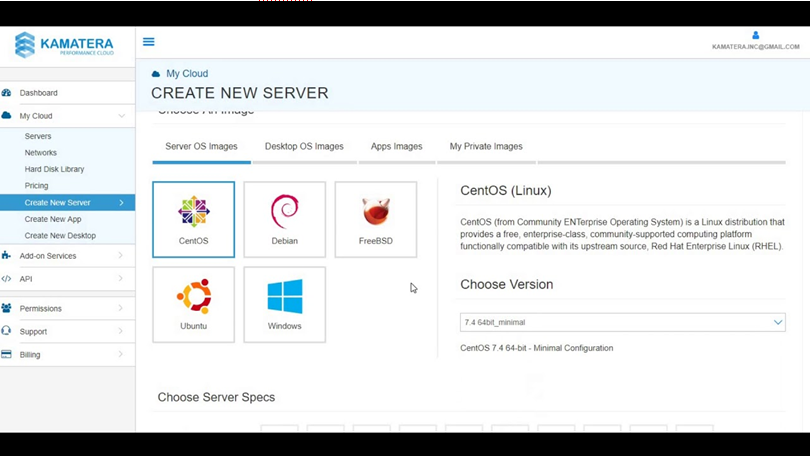 2.In the sidebar on the left, choose My Cloud > Create New Server.
3.Select the server location nearest to your primary audience.
4.Select an Image. Choose your favorite server operating system if you want a completely customizable server.
Windows and Ubuntu can be selected from the desktop OS images page for RDP.
5.Select the A-Availability server type. It is the cheapest and finest option for novices. You may scale as your business grows.
6.Select CPU Core
7.Select RAM Size
8.Select SSD DISK #1, 20GB, as its price is comparable to 15GB and 10GB.
9.The Daily backup and management service can be enabled. These are not free.
10.Keep the public internet network active. It is necessary for communication with the rest of the world.
11. Set your password and unique server name

12.Select a monthly billing cycle and establish a server.
Kamatera Cloud Costs
Pricing at Kamatera is transparent. Their basic plan begins at just $4 per month.
Which will result in —
1GB RAM
1TB Bandwidth
20 GB SSD Storage
1 vCPU Type-A
Server OS/1-clicks Applications
1-Public IP
You may select either a monthly or an hourly pricing plan. The cost is $4 per month or $0.005 per hour.
Additional bandwidth is available for $0.01 per GB, while additional storage costs $0.05 per GB.
You may easily add additional CPU cores, bandwidth, and storage as your website expands. Pricing will be determined based on the final configuration.
You can enable their managed service to save time and avoid worrying about setups.
Final Verdict
With its robust hardware, reliable software, 100+ 1-click apps, devoted support, and affordable pricing, Kamatera is a superior option for both creators and novices.
A free 30-day trial of their managed service is available.
FAQ
Is Kamatera an IAAS, PAAS or SAAS?
Similar to AWS and GCP, Kamatera is an IAAS firm that offers infrastructure on demand for a fee.
What is the purpose of Kamatera?
Kamatera is an enterprise-grade cloud provider whose cloud platform supports the creation of Web Server, RDP, Forex Server, Minecraft Server, and Streaming Server.
Who is the owner of Kamatera?
OMC Computers is Kamatera's parent firm. In 1995, Yohay and Asaf Azulay launched the company. Yohay Azulay introduced the company's first hosting brand, Kamatera, in 1996.
What is the refund policy of Kamatera?
Kamatera offers reimbursements if their products and services are not available and operational at least 99.9% of the time.
They can consider a lesser repayment amount
(a) $5,000 USD
(b) Amount equivalent to one month's billing
You must submit a detailed account of the incident within 14 days of its occurrence.
Is Kamatera secure?
Yes, it is protected. They feature a cloud firewall with disaster recovery management for protecting data and servers against DDoS, SQL injection, brute force attacks, and numerous other online dangers.